The dachshund, also known as the sausage dog, wiener dog, teckel, and oh-my-God-that's-adorable dog, is one of the most popular dog breeds across the US. But like any popular dog, some poor pups end up as dachshund rescue dogs.
Adopting a dachshund rescue dog is a very noble and rewarding thing to do… but where can you find one? How do you know the rescue service is legitimate? And are you sure you want this particular breed of dog?
Our guide to dachshund rescue covers all of this, along with some of our favorite cute dachshund pictures from Instagram.
How to Find Your Nearest Dachshund Rescue Place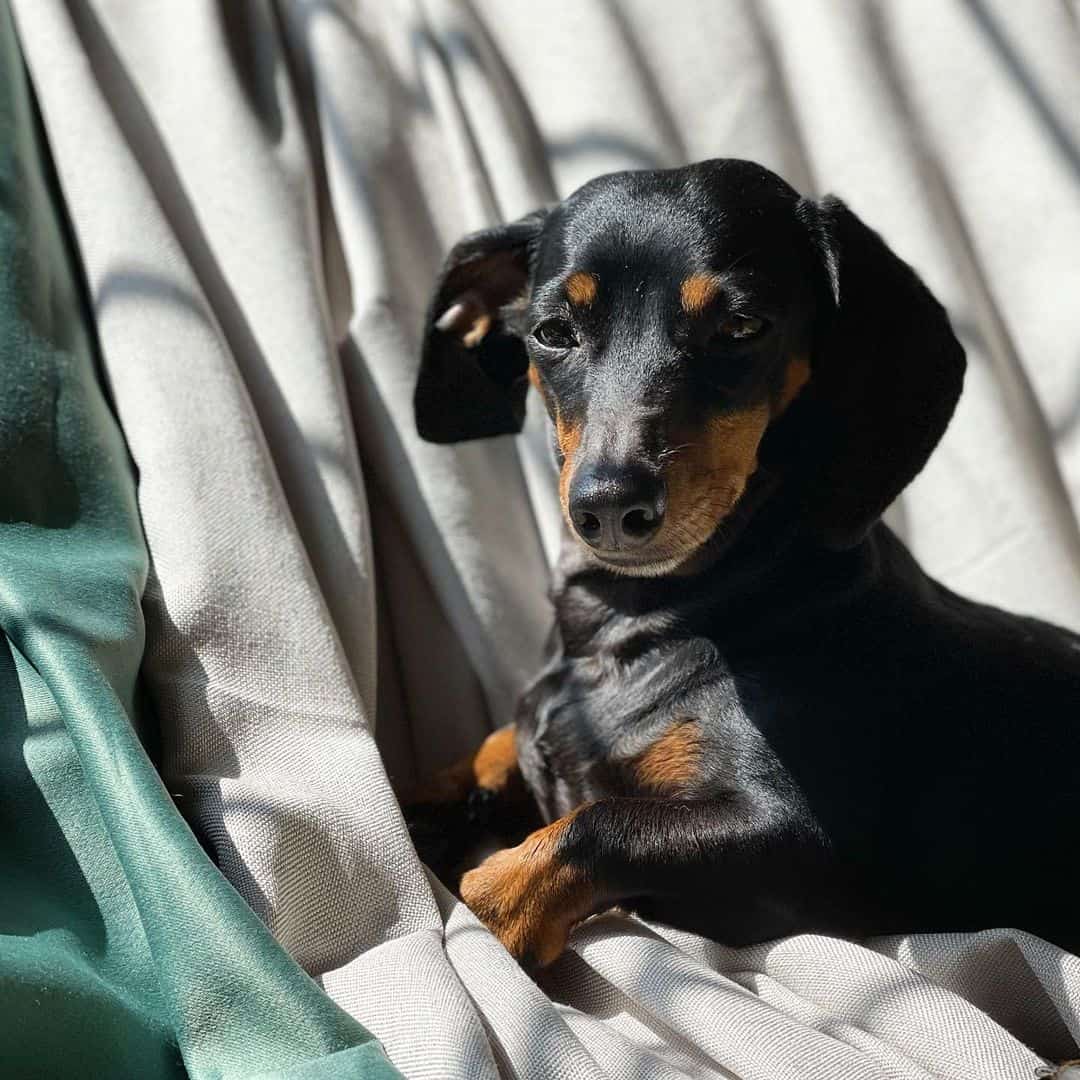 The first thing you'll want to do is search for dachshund rescue organizations in your local area. You don't want to drive miles and miles to pick up your new dog!
We recommend starting with the 14 rescue services below, then looking up dog shelters in your region. Always check out the reviews and look for confirmation of their status – most will have a 501 c 3 exemption as not-for-profit organizations. Regardless, there will still be adoption fees and even taxes that you'll need to pay before you can adopt. We've outlined what to expect below.
Be careful when finding rescue dachshunds in Facebook groups, newspaper ads, and forums. Unfortunately, some people will try to sell off dogs as rescue animals… when really, they aren't. Never buy a pup in a parking lot either!
The best rescue dog services will give you info about the dog. Things like medical problems, last exam test dates for rabies, worms, etc. as well as info on where he or she is coming from and the temperament of the canine.
Once you're all set, you're ready to adopt!
14 Great Places to Find Rescue Dachshunds
In its loosest definition, a rescue dachshund is simply a dog that's being rehomed after the original owner can no longer take care of it. However, rescue dachshunds can range from stray dogs to abused dogs. These dogs end up in specialist dachshund rescue centers or in general dog shelters.
There's a common misconception that these shelter dachshunds will be angry, barky, violent things… but that's not true at all. Many of the rescue places and shelters you'll find below are currently trying to find homes for good-natured, sweet, and kind dachshunds!
1. Dachshund Rescue of North America
Location: All States
Adoption: Yes
Fostering: Yes
Dachshund Rescue of North America (DRNA) is an amazing charity that's looking for people to adopt their rescue dachshunds or become foster parents until a permanent home can be found. They currently have some really adorable dachshunds available for adoption along the east coast, but they serve nearly all states in the US – so check what they have available right now!
The DRNA vaccinate, test, and spay or neuter all their dogs before they're placed in foster care or adopted. They also provide so much information on each and every dog. So, if you need to find a pooch that's good with cats or is happy left alone during the day, then you can find that here.
2. Dachshund Haus Rescue
Location: Michigan, Ohio, Illinois, Indiana
Adoption: Yes
Fostering: Yes
The Dachshund Haus Rescue serves much of the Midwest and has several cute dachshund doggies to adopt or foster. To adopt a pup from this service, you'll need to fill in the forms as an application. If they receive multiple applications for one doxie, then they'll choose the best candidate.
You can also support this rescue service by donating or buying something from their cool boutique while you wait for a dog to become available.
And if the dachshund adoption doesn't work out as you planned, you can return the dog within 7 days for a 50% refund.
https://dachshundhausrescue.org/
3. Dachshund Rescue of Ohio
Location: Ohio
Adoption: Yes
Fostering: No
Dachshund Rescue of Ohio is an amazing service rescuing unwanted dachshunds from across the state. They care so much about each and every dachshund they find. You can tell they're true dog lovers!
To adopt a dachshund from this rescue service, you'll need to apply for the adoption process and go through their rigorous screening. This is just so they can make sure that you'll be a good owner for their pup. You also get a new-owner starter kit plus harness and leash thrown in with the adoption fee, so you'll be ready for those happy walkies from the get-go.
http://www.dachshundrescueofohio.com/
4. Kentucky Dachshund Rescue
Location: Kentucky
Adoption: Yes
Fostering: Yes
Kentucky Dachshund Rescue is a great organization with some seriously snuggly dachshunds available to adopt. They do an amazing job of serving the state and helping dachshunds find new homes. On their website, you can apply to adopt one of their dachshunds and you'll also find a very long list of all the dog shelters they've verified in Kentucky.
So, if you're currently in Kentucky and looking to adopt a doxie, then this is the place to go!
The Kentucky Dachshund Rescue service is also in desperate need of more loving homes to foster dachshunds before they are adopted, so check out the application process for that as well.
https://kentuckydachshundrescue.com/index.html#
5. Rescue Me! Dachshund
Location: All States
Adoption: Yes
Fostering: No
You might have heard of Rescue Me! before. They are an animal rescue and adoption service spanning all 50 states for dogs, cats, horses, birds, and pretty much any other pet you can think of. But they do have a website purely dedicated to the dachshund breed.
On their dachshund site, you can browse by state to find rescue dachshunds in your area. Rescue Me! doesn't find the dogs and foster them – it's more of a website where shelters and foster families can advertise that they have a dachshund available. As a result, adoption fees vary widely and there are so many different dachshund mixes available.
https://dachshund.rescueme.org/
6. Florida Dachshund Rescue
Location: Florida
Adoption: Yes
Fostering: Yes
The FLDR is all about rehabilitating their lovely dachshunds into permanent homes in the state of Florida. They are looking for loving homes to adopt their dachshunds, and foster volunteers to look after their rescue dogs until they are adopted.
We really admire this rescue service in particular. They provide education about puppy mills, the importance of spaying and neutering, as well as general dachshund info so people can get to know and understand this friendly dog breed.
Even if you can't see a dog currently available on their website that would be good for your home, just fill in an application and they'll contact you if a suitable pup becomes available.
7. Little Paws Dachshund Rescue
Location: East Coast States
Adoption: Yes
Fostering: Yes
Little Paws is a dachshund rescue organization looking for doggie adopters and foster homes for their rescue dachshunds. They mainly operate along the east coast, but they do rescue dogs in 21 states overall, covering the Midwest too. You can find a full list of states on their about page.
There's a wide range of dachshunds to adopt here, including senior dachshunds, short coats, long coats, mixed breeds, and bonded dachshunds. So, if you wanted to adopt a pair of sausage dogs, this rescue service can help.
Don't forget, if you're adopting in New England that you'll find additional adoption fees to cover regulatory requirements.
8. Dachshund Rescue of Houston
Location: Houston, Texas
Adoption: Yes
Fostering: Yes
Down in Houston, the Dachshund Rescue has a motto – "until there are none, save one." You can do your bit to help the Dachshund Rescue of Houston by volunteering, donating, fostering, or adopting a rescue dachshund.
You can see multiple great photos of the cute dachshunds they have available right now! The adoption fees for their doggies start at $300 plus tax for baby pups under 1 year of age, going down to $150 plus tax for senior doxies.
You'll need to be fairly near Houston or the surrounding areas to pick up a dachshund and bring it home with you.
9. Nebraska Dachshund Rescue
Location: Nebraska
Adoption: Yes
Fostering: Yes
The Nebraska Dachshund Rescue has many cute dachshunds available to foster and adopt in the Omaha region of Nebraska! They have some real cuties, from sweet puppies to gentle seniors. The dogs are fostered or sheltered by associates and volunteers from the Nebraska Dachshund Rescue service, but the adoption process and application are done through Petfinder (see below).
You can check out their available pups on their website and learn more about what they do and the events they hold. You can also surrender a dachshund directly to the rescue service if need be.
http://www.nebraskadachshundrescue.org/
10. Dachshund Rescue of Los Angeles
Location: LA, California
Adoption: Yes
Fostering: Yes
The Dachshund Rescue of Los Angeles center can help you foster or adopt a dachshund in need if you're in the LA region. The organization is run entirely by volunteers (how impressive is that?) and they're a charity organization run under the Pitman Animal Rescue Foundation. They aim to reduce the number of dachshunds in local shelters and provide safe places for homeless dogs.
Note that some of their dogs are located in neighboring states – at the time of writing this guide, they have an adorable pooch ready for adoption in Las Vegas!
https://www.dachshundrescueoflosangeles.com/
11. PetCurious
Location: All States
Adoption: Yes
Fostering: No
PetCurious is similar to Petfinder – they list numerous dogs up for adoption across the US in one place. Animal shelters list dogs on this site, so you may find dachshunds in general shelters near you, rather than dachshund-specific rescue shelters. The website isn't nearly as detailed as other shelters and dog adoption sites, so be prepared to do a little research and contact the shelters for more info about the dog you are interested in.
Nonetheless, it's a great site to discover shelters that you might not have realized had dachshunds available.
https://www.petcurious.com/dogs-for-adoption/dachshund/
12. Dachshund Rescue NW
Location: Washington (State)
Adoption: Yes
Fostering: No
Dachshund Rescue NW, near a town called Seven Mile (near Spokane area), is a shelter specifically for dachshunds. Unlike many services that require foster homes to keep dachshunds safe and happy until they can be adopted, this rescue organization keeps all the rescue dogs in a safe place together.
You can book an appointment in advance to visit them and spend some time hugging the sausage dogs!
We really admire this rescue service – they educate about puppy mills and it's obvious from their website just how much they care about the pooches they save and look after.
http://www.spokanewienerdogs.org/
13. Dixie Dachshund Rescue, Inc.
Location: Alabama
Adoption: Yes
Fostering: Yes
In central Alabama, the Dixie Dachshund Rescue inc is busy saving dachshunds and finding new homes for them across the southeastern US. This non-profit organization places dachshunds in need in various foster homes across the state, where they are cared for until a forever home can be found for them.
You can browse the current dachshunds they have available for adoption on their website. If you are feeling extra caring and have plenty of time and resources to spend with your new doge, then check out the special needs dachshunds. These pups need a little extra help with medical issues, behavioral problems, and disabilities.
Regardless of their quirks, they're all super adorable!
http://dixiedachshundrescue.com/
14. Petfinder
Location: All States
Adoption: Yes
Fostering: No
If you cannot find a shelter or dachshund-specific rescue center in your area, then you can always check Petfinder! We like to recommend searching for independent shelters and organizations first, as you'll be supporting the local community and the hard-working volunteers. But if that's not possible, then a nationwide service like Petfinder is ideal.
On Petfinder, you'll find dachshunds listed from shelters and rescue services all over the United States. Make sure you do your research on the shelter you are going to adopt from. They will all have different fees, different processes, and different requirements from you before you can adopt.
https://www.petfinder.com/dog-breeds/dachshund/
What to Expect from a Dachshund Rescue Dog
When you start looking for your new doggie companion, make sure you read all the info provided by the shelter. When you apply, you'll need to disclose your living circumstances (noisy household, young kids, small yard, etc.) so the shelter will be able to find a compatible dog.
Although adopting a rescue dog is a really noble thing to do, there are some things you should know about rescue dachshunds in particular:
Adoption fees start over $100 and you may need to pay taxes too,
Many shelters won't ship their dachshunds to you, so you'll need to be within driving distance,
Dachshunds require grooming semi-regularly; the smooth coat can be brushed when needed, the long coat should be brushed weekly, and the wire coat needs to be brushed twice weekly and have the occasional trim,
This dog breed is naturally wary of strangers so it will need time to settle into your home,
Dachshunds bark when excited or at strange people and dogs – although some shelter dogs are unusually quiet,
Back/spine problems are most common with dachshunds, but they're also prone to obesity. Try not to overfeed your new sausage dog!
When it comes to rescue dogs, you'll want to make sure a vet has looked them over before you adopt. This is especially important if you have a tight budget – you don't want to adopt a doggie that comes with long-term medical bills that you cannot afford.
Adopting a dachshund and then having to return it due to costs will be heartbreaking for you and the pup.
5 Things You Should Know About Dachshund Rescue Pups
Are you sure that the dachshund is the right dog breed for you? Check these general facts about dachshunds to see if your household is compatible!
Price
Dachshunds are small creatures. Prices generally start around $300 to adopt a shelter dachshund puppy. Non-shelter pups can sell for thousands. Usually the older the dog, the lower the fee. Taxes and other regulatory fees may apply; it varies from state to state.
Bear in mind long-term costs too – most shelter dogs will be vaccinated and spayed/neutered already, but you'll still need regular trips to the vet. On average, a dachshund costs around $1,100 per year to feed, clean, exercise, etc. Given its life expectancy, a 1-year-old pup could cost you over $16,000 during its lifetime.
Life Expectancy
The life expectancy of a dachshund is usually up to 14 years, but some happy dachshunds can live for a few years longer. Bear in mind that a shelter dachshund who was malnourished or came from an abusive home may have a shorter life expectancy.
But that doesn't mean they aren't deserving of a loving forever home!
Walkies
Dachshunds are playful and have high energy levels, so they'll appreciate running around the backyard, exploring, digging, and going on regular walks. When they scent a small animal, they'll be running fast and loving life. Having outside space for your dachshund is essential. They don't need to hike for miles, however, as don't forget that they have very short legs!
If you aren't keen on being overly active with your dog, opt for a miniature dachshund or senior dog who appreciates a quiet day in.
Either way, dachshunds are still happy to curl up on your lap after an active day running around.
Friendliness
Dachshunds are quite affectionate to their owners, and many get on with other dogs and older children, but usually, they feel most at home in quiet family homes where they can be the center of attention.
Some shelter dogs won't be a good fit for noisy households or families with young children.
While dachshunds can be friendly with other dogs, they don't do well with strangers and they will need time to acclimatize to their new home. They aren't afraid to bark at the mailman! If you need a quiet dog that doesn't bark, then a dachshund isn't the right dog breed for you. They need regular mental stimulation, fun, games, and exercise to keep calm and quiet, instead of being noisy and even destructive.
Best for…
Dachshunds are great for single dog parents. They are happiest in a home that has a big backyard where they are surrounded by familiar faces. If you have close and noisy neighbors, or strangers visiting your home regularly, this will stress out your doxie.
You will also need to be patient. Dachshunds can be trained well enough, but they were bred originally for hunting and tracking small animals. So, when they're busy exploring and digging when they catch a scent, they'll be off like the wind and won't listen to your calls!
Our Favorite Dachshund Dog Names!
Most rescue dogs come with names, but if it's a young pup you may be able to train it with a new name. Here are some of the best names we've come across for sausage dachshunds:
Minnie, Tootsie, Polly, Zoe, Bubbles, Howie – all great names for chihuahua and dachshund mixes. These names reflect the cheerful and tiny nature of these doggies.
Mac, Spencer, Gunter, Ace, Charlie, Irish – awesome names for adult male dachshunds. Give the little man a great name and he'll be a real ladies' man!
Almond, Kiki, Lady, Ellie, Cinnamon, Bella – names for the sweetest girl in your life. Matching the name to the color of their coat is a really nice idea.
Belle, Peaches, Fred, Fran, Washington, Buddy – we love these names for senior dogs who love to cuddle on the couch and take it slow.
What name would you love to give to a sausage dog? Let us know your favorite and share your adoption stories in the comments below!
Also Read: